I am participating today in
Happy Jax's "Finagle a Photo - Best of Summer" and "Best of week"
series.
I can't believe it's time to choose the best summer photos already. I'm in major denial that summer is almost over. It was hard to choose my favorites but I did it. I'm sure I'll have new favorites next week again! Check out Happy Jax -
Melanie's blog
- she has some amazing photography of her son and check out some of the people linking up for "Best of Summer" Series.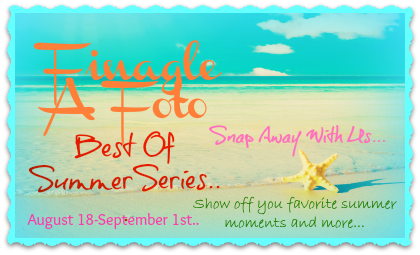 Here is my "Best of Week" shot from this past week
I cropped a little off center, straightened it, brightened & sharpened a bit.
This was my favorite shot this week because it shows Julianna's personality. She runs fast & far and has so much fun doing it! Arms & legs in all directions. We went to the Lake Mohawk boardwalk on Friday and she loved it. She loves anything exciting & outdoors.
** Here are my "Best of summer" shots **
Some of these are repeats from this summer if you followed me closely. Some are new.
My favorite sunset photo from our vacation in Ocean City, MD in July.
Dark clouds make for a cool background sometimes (along with Boondoggle Lightroom preset).
This was taken on vacation in Ocean City, on the canal inlet where we stayed.
I love my baby girl's eyelashes.
This is one of my favorites from our summer vacation - This is the Ocean City Boardwalk at sunset.
This is the Lake Mohawk (Sparta, NJ) Boardwalk by us. I went here with my mom & Julianna this week.
It's nice to walk around & see the German inspired restaurants & buildings.
My happy girl on vacation.
My golden girl.
My husband played golf this summer and loved it. He wants to take lessons now.
My "Hollywood" daughter.
Here are some Before & Afters.
Still part of my "Best of Summer" pics.
SOOC - "Before" - It was too bright & too centered. But I adored her feet sticking out and the solitude of this shot.
Fixed-"After" - I darkened & deepened it, straightened the horizon, cropped off center, removed random swimmer heads.
SOOC - "Before" - I thought there was too much going on in the top background with the building.
Fixed - "After"- I liked it in B&W better, and I cropped out the busy background.
That's it. I hope you enjoyed the summer photos. Which is your favorite?
EDIT 9/7/12
- I Won! I won! I won the 'best of summer' over at Happy Jax where I linked up here! Pretty cool man!