I am linking up to
this post called Holiday Home Extravaganza
over at "For the Love of Blogs" ...
It's where other bloggers go to show off their Holiday decorations... It looked like fun, so I took some pictures and here are the ones I am linking up. Check it out if you have some holiday decorations you want to share! I will admit, mine are not quite "extravagant" like some of the others there... but hey, this is all for fun right?!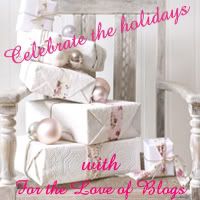 And here it is... My Home Holiday decor... (try not to yawn, I warned you it wasn't extravagant!)
Believe it or not, I do not have a decent picture of our Christmas tree yet!! I have to work on that one once the presents are under the tree...
Julianna's "Advent" Calendar stocking
Mr. Santa in front of our wood stove
Random decorations on our cabinets
End table decor
Santa's on the tv stand
And here's my favorite decoration ...
Wooden Christmas tree with lights
Waving Santa
Our angel
Mr Reindeer